Concept Aromatique: a perfumery destiny !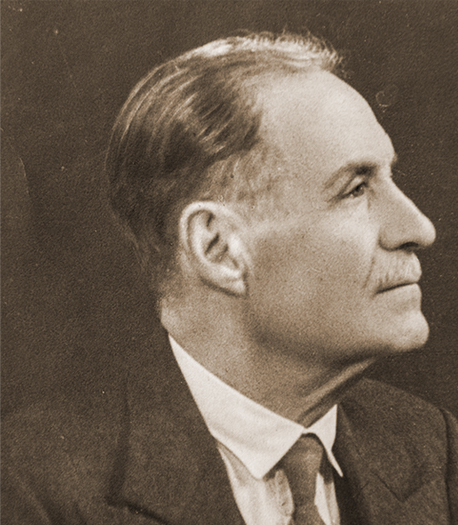 It all started on the shores of the Mediterranean in the 19th century, when Pedro Domingo de los Rios arrived from Spain as a child.
He later became a ladies' hairdresser and stylist, very soon branching out into fine scents and opening a refined and elegant perfumery.
His son, Pierre Oscar de los Rios became North Africa agent for the still famous perfume brand HOUBIGANT. He went on to represent the interests of the prestigious, two-hundred-year-old Grasse-based firm ANTOINE CHIRIS, in the same region. Near the Garden of the Hesperides, which the Greeks placed on the western slopes of the Atlas Mountains, he discovered the freshness of citrus in Misserghin, (where missionary Father Clément developed an orange hybrid, the famous clementine), the warm scent of jasmine in Boufarik and the delicate caress of sensual rose in the Dades Valley.
Etienne Robert de los Rios followed in his footsteps, although the vagaries of history led him to more northerly climes. He was to spend many years with the historic firm of ANTOINE CHIRIS, at the nexus of the Grasse perfume industry with its brilliant inspirations and innovations.
He continued his career with MANE, already a very successful and highly distinguished company.
Frédéric de los Rios, fourth-generation member of the family and legatee of all this precious experience, opted for an innovative and creative adventure. In 1994 he established CONCEPT AROMATIQUE on solid foundations; it has gone on to flourish in the Grasse region, where fields of roses, tuberoses, mimosas and other flowers grow on the slopes of the Estérel Massif!
Such an environment could hardly fail to provide inspiration and encourage the growth of an original perfumery with an established reputation on every continent!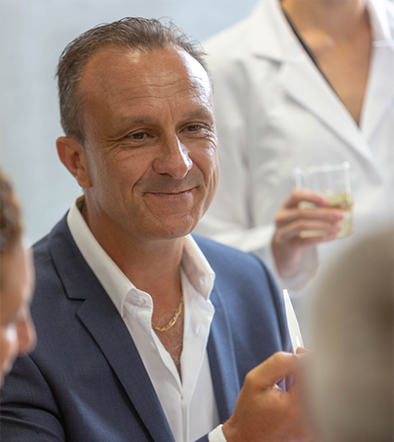 Who are we?
CONCEPT AROMATIQUE was created in 1994 near Grasse, the beating heart of the French perfume industry. We have continued to grow ever since, mainly in the export market.
Today, at Concept Aromatique we apply our expertise to blending the noble, local and natural raw materials traditionally used in French perfumery with the most modern of synthetic ingredients to develop our fragrances.
Building on a long experience in the perfume industry, and in line with best practices, Concept Aromatique combines natural raw materials like essential oils, absolutes and concretes with synthetic aromatic molecules meeting the strictest standards, such as the EU cosmetics regulation.
Concept Aromatique's focus is on correctly interpreting the desires and emotions that our customers wish to pass on to end consumers. At Concept Aromatique we devote our extensive know-how to successfully completing the projects we handle.
The perfume concentrates we develop are destined for perfume and cosmetics industry professionals in France and abroad.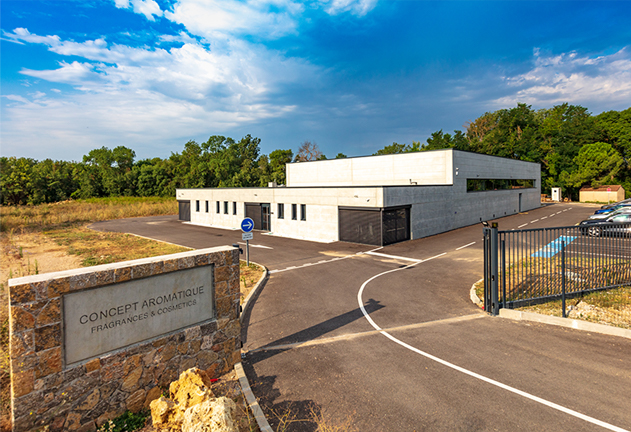 Our areas of expertise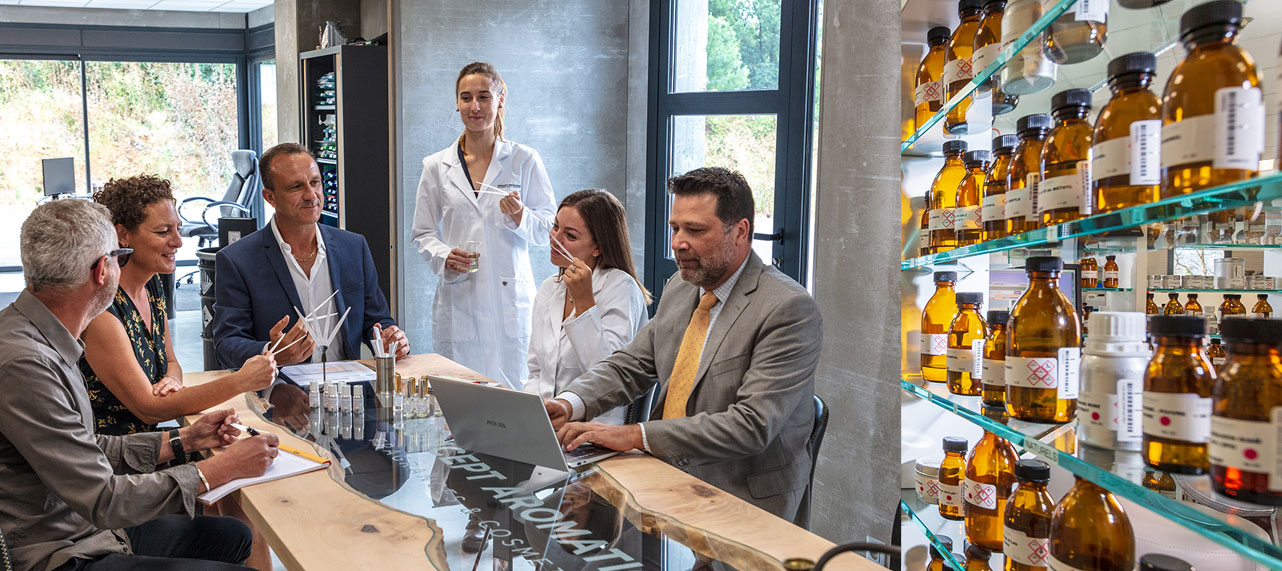 Our 25 years of experience guarantee :
- Through market intelligence, knowledge of the personalised notes that will ensure the success of your projects.
- Formulation suited to the different uses of your finished products (see more).
- The regulatory and technical knowledge necessary for introducing your products in your markets (see more).
- Export of our products worldwide.
- An incubator for independent perfumers.
Made In Grasse
Our local roots and identity as a Grasse-based perfumer have been instrumental in winning numerous awards for our local initiatives and our international standing alike:
- the Trophée de l'emploi et des compétences du Var (Var skills and employment trophy) in 2018
- the Trophée Stars et Métiers (Stars and jobs trophy) in 2019
- les Trophées de l'ECO 2020 (ECO 2020 trophy) for our local know-how
Being established in the Grasse region has also enabled us to obtain the Grasse Expertise label due to our perfumery know-how and technical skills.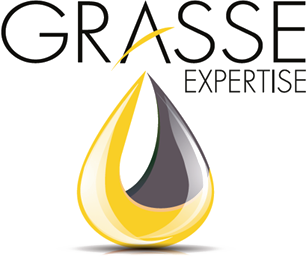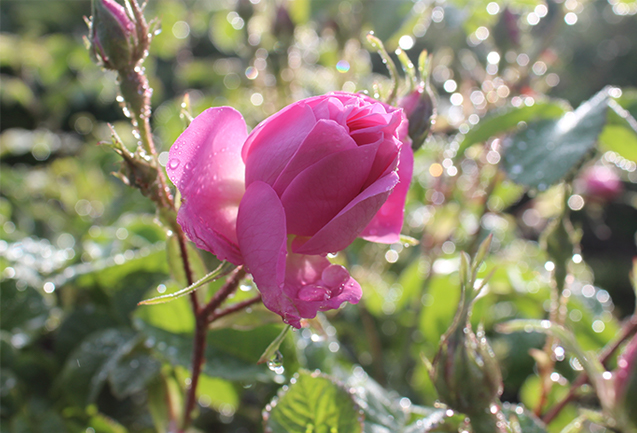 The Grasse Expertise label brings together numerous multi-generational fields of know-how as part of an overall strategy for development. Its purpose is to promote farming of aromatic and medicinal plants for the perfume industry, while addressing issues related to sustainable development.
Drawing on an invaluable heritage, many areas of expertise are still based on traditional know-how; constantly improving and interconnecting them (farming, sourcing and transforming the raw materials, formulation, quality, R&D, distribution and bio-technology) opens the door to a number of thriving markets such as perfumery, agri-food, cosmetics, hygiene and the health and wellness sector.
The Grasse area, which we proudly represent, has thus become home to an entire ecosystem